[ad_1]

The story of the Haight family is a horrifying one. But you'd never know it from reading the obituary section of the local newspaper!
The community of Enoch City, Utah was rocked early this month when eight family members were killed, the youngest just 4 years old. Police performed a welfare check on the house on Wednesday, January 4 after family and friends reported being worried they had not heard from them. What cops found was the entire Haight family — Michael Haight, his wife Tausha Haight, and their five children, two sons aged 4 and 5, three daughters aged 7, 12, and 17 — had been shot to death. In addition, Tausha's mother Gail Earl, had also been killed.
The following day Enoch City officials revealed to the public that it was believed to be a murder-suicide. As far as they could tell, Tausha had filed for divorce from Michael on December 21. Two weeks later he returned to their home and shot his entire family, including his mother-in-law, dead — and then turned the gun on himself.
It's a devastating story. But if you read the obituary published in local paper The Spectrum or on the website of the Southern Utah Mortuary, you'd think he'd had a heart attack or been killed by an exploding crock pot or something.
The glowing tribute not only fails to mention the murders, it makes the man sound like some kind of saint!
Related: Idaho Murder Suspect Claimed Rare Disorder Made Him Feel 'No Emotion'
The first half describes his early years playing sports, becoming an Eagle Scout, and doing missionary work with the Mormon Church. This man who apparently murdered seven people? According to the obit, he "excelled at everything he did." The piece praises his "values of honest hard work and determination" through school and career.
But it gets even worse. As the notice moves into the 42-year-old's later years, his relationships with his wife and children are described with a sickeningly saccharine tone, completely divorced from the context. For instance, the children "were truly a cherished miracle to" Michael and his wife. Most egregious, perhaps, considering he allegedly shot his children to death one by one?
"Michael made it a point to spend quality time with each and every one of his children."
And of course…
"Michael enjoyed making memories with the family."
Whoever wrote this thing even had the gall to say he "lived a life of service." Yeah.
The obit has been removed from both the mortuary site and the Spectrum after complaints. But here it is, captured by bewildered folks on the internet before it was taken down: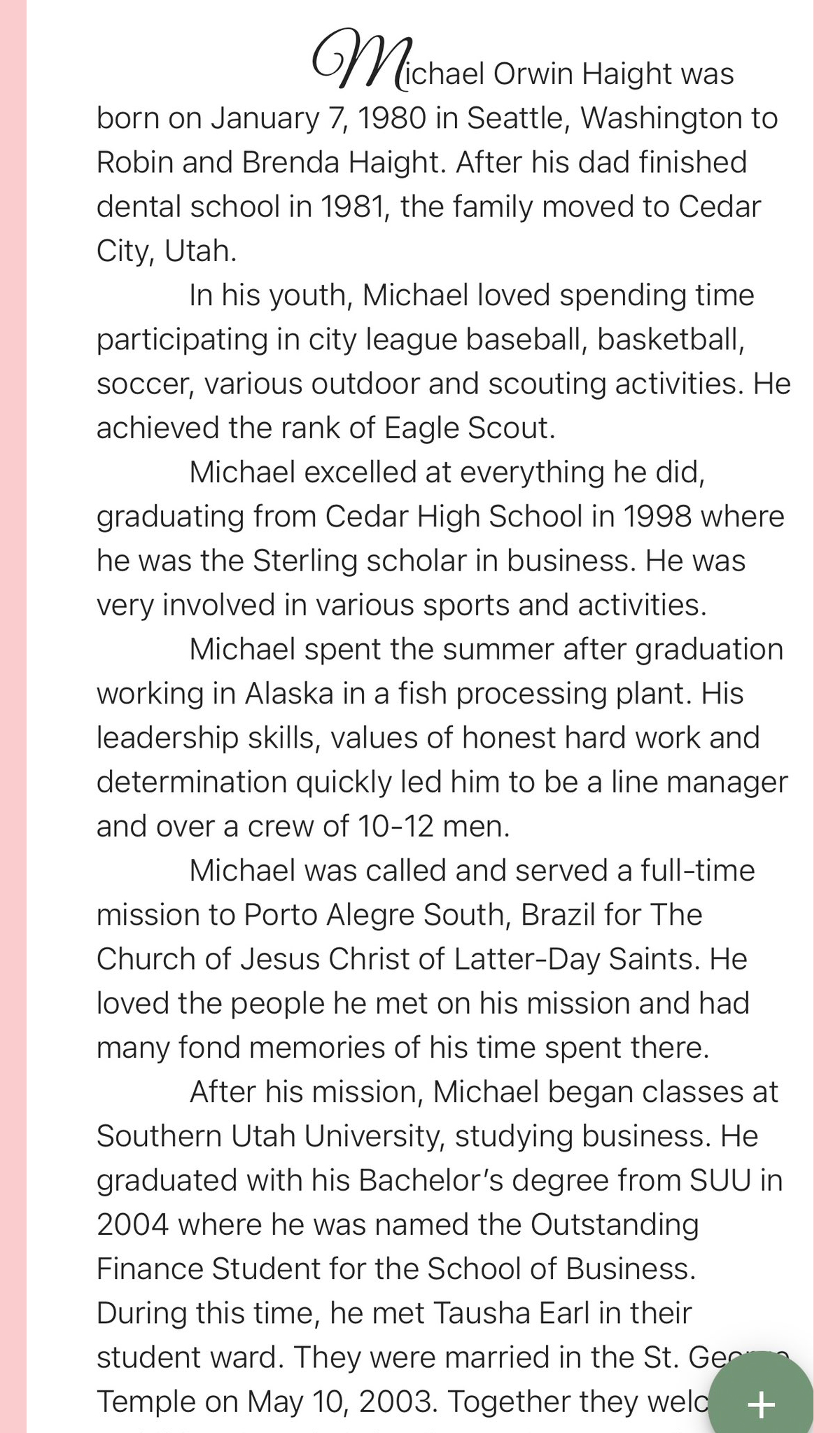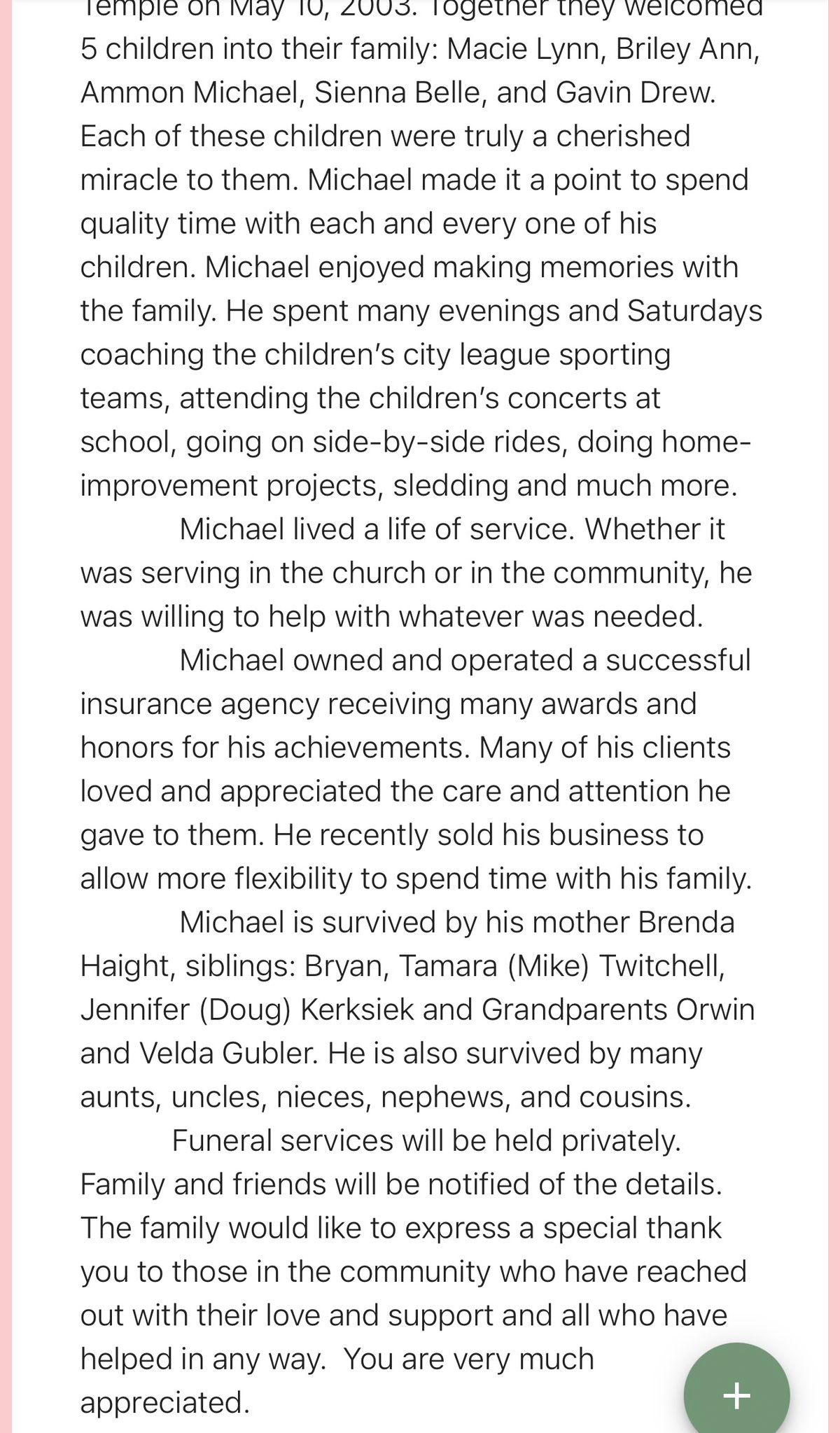 Also shocking?
The wife's family has the astonishing lack of awareness to blame not guns for the gun violence — but the lack of guns. See, Tausha apparently told her family that Michael took all the guns with him when he left. So instead of being upset this apparently violent man had access to all the firepower he'd need to murder a family, they're bemoaning the fact there weren't enough guns in the house, saying in a statement:
"Protective arms were purposely removed from the home prior to the incident because all adults were properly trained to protect human life. This is the type of loss that will continue to occur in families, communities and this nation when protective arms are no longer accessible."
Because the solution to people being killed by someone in their household is to put more guns there?
Related: Toddler Wanders Around Carrying Loaded Gun Found In Home
JFC.
[Image via Fox13/YouTube.]
[ad_2]

Source link