[ad_1]

Is Olivia Wilde dismissing her Harry Styles romance??
Two months after the controversial couple's split, the Booksmart director is opening up about love… Or her lack thereof? In a Tuesday Instagram Stories upload, the 38-year-old posted a still from the 2004 Thai romance Tropical Malady with the subtitle onscreen reading: 
"I'd hate to die without having loved."
See (below):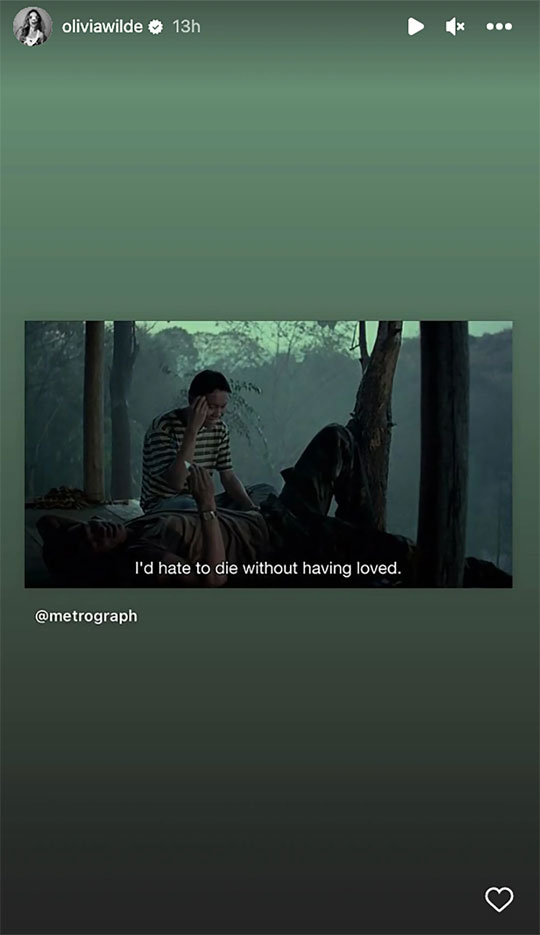 Ummm, pump the brakes… The LGBT romance film is about two young men experiencing a night that promises love that seemingly cannot be. Is Olivia implying she, too, has never loved in a relationship??
Fans will know the House actress split from ex-fiancé Jason Sudeikis, with whom she shares 8-year-old son Otis and 6-year-old daughter Daisy, back in 2020. The two began dating in 2011, so nine years without any love would be a BIG claim. And so hurtful.
Shortly after, the In Time actress was spotted holding hands with Harry at his manager's January 2021 wedding. The two met a few months prior on the set of Don't Worry Darling — and later made headlines as the exact timeline between her split from Jason and the beginning of her relationship with Harry was blurred, to say the least.
Related: Harry Kissed Florence Pugh Before Hooking Up With Olivia??
Back in September, she addressed the speculation that there was any overlap between her recent relationships, telling Vanity Fair: 
"The complete horses**t idea that I left Jason for Harry is completely inaccurate. Our relationship was over long before I met Harry."
Hmm…
She and Harry went on to split in November following a media storm around Don't Worry Darling and her messy feud with star Florence Pugh — as well as some pretty upsetting accusations from a disgruntled nanny. A source told Page Six at the time: 
"There is no bad blood between them. Harry didn't dump Olivia, or vice versa."
Not sure we'll ever buy a quote that says a couple broke up without either of them being the dumpee! LOLz! And after we heard she may have lied to Harry as well as Jason, well… Who knows?
And in December, an insider close to Olivia told Us Weekly:
"Olivia is still very much upset about the breakup."
They noted she's been "trying" to move on, and that she "thought going on vacation would allow her to decompress." That itself makes it sound like there HAD to be love in the relationship, right?? Maybe she's retroactively convincing herself it was all B.S.?? Or is she going down the road of no regrets, and realizing that even if they split at least they loved at all? 
We need more answers, Olivia! What does it all mean?!
Do YOU have any thoughts on what her cryptic post could indicate, Perezcious readers? Let us know in the comments down below!
[Images via Vanity Fair/YouTube & MEGA/WENN]
[ad_2]

Source link