[ad_1]

For the Bravo fans hoping for a one-on-one sit down between Andy Cohen and Jen Shah, we have some bad news for you.
In case you didn't know, the Watch What Happens Live host has been gunning for an interview with The Real Housewives of Salt Lake City star before she starts her six-and-a-half year prison sentence next month. He previously shared on an episode of his SiriusXM show Radio Andy:
"I'm hoping to go talk to Jen this weekend. I'm hopeful that I can do that sit down with her in front of some cameras and deliver that to you. I'm really hoping to do that."
While there have been a lot of whispers about whether the television personalities will clear the air, especially since she skipped out on the RHOSLC reunion (and robbed everyone of a chance to question her about the legal fiasco), it looks like it won't be happening. Jen took to Instagram on Thursday to announce that she refuses to do an interview with her former boss, explaining:
"On January 6th, I stood before Judge Stein and asked him to see me not as a fictionalized character, but as the real Jen Shah. I am now at a point, legally, emotionally and mentally, where I can answer some questions and provide a few unknown details about my case. I want and need to share these critical facts. I owe it to those that love and support me to hear the truth."
So she's trying to distance herself from Housewives? Well, there's more to it…
Related: Savannah Chrisley Is PISSED Jen Got Sentenced To Less Time Than Her Parents!
The 49-year-old reality star went on to claim that Bravo wouldn't "remove contractual provisions" that allowed them to "make misrepresentations" about her:
"I will not be doing the 1:1 with Andy Cohen and Bravo because of their unwillingness to remove contractual provisions that would allow the network to legally make misrepresentations of me and my story, relating to any and all topics, prior to and during the course of my participation. The specific 1 on 1 interview was not part of my RHOSLC reality TV contract. I promised myself and my loving family that I would not allow this portion of my life to be sensationalized or inaccurately conveyed."
The reality star then said she "would rather remain silent" than lose the ability to control her own story — but really she's thinking about her victims in all this:
"Too many people have been hurt by my actions and my inability to control my own narrative. I would rather remain silent and wait until I am able to accurately share my story than continue having complete lies and misrepresentations about me smeared across the headlines."
Sorry, what?! Her "inability to control my own narrative???" She literally kept lying and insisting she was innocent of this crime until she shockingly changed her plea to guilty! All she's done is control her own narrative! Jen concluded by saying:
"I intend to speak and you will hear from me. I will share my story and this painful part of my life very soon."
Wow. You can read the entire statement (below):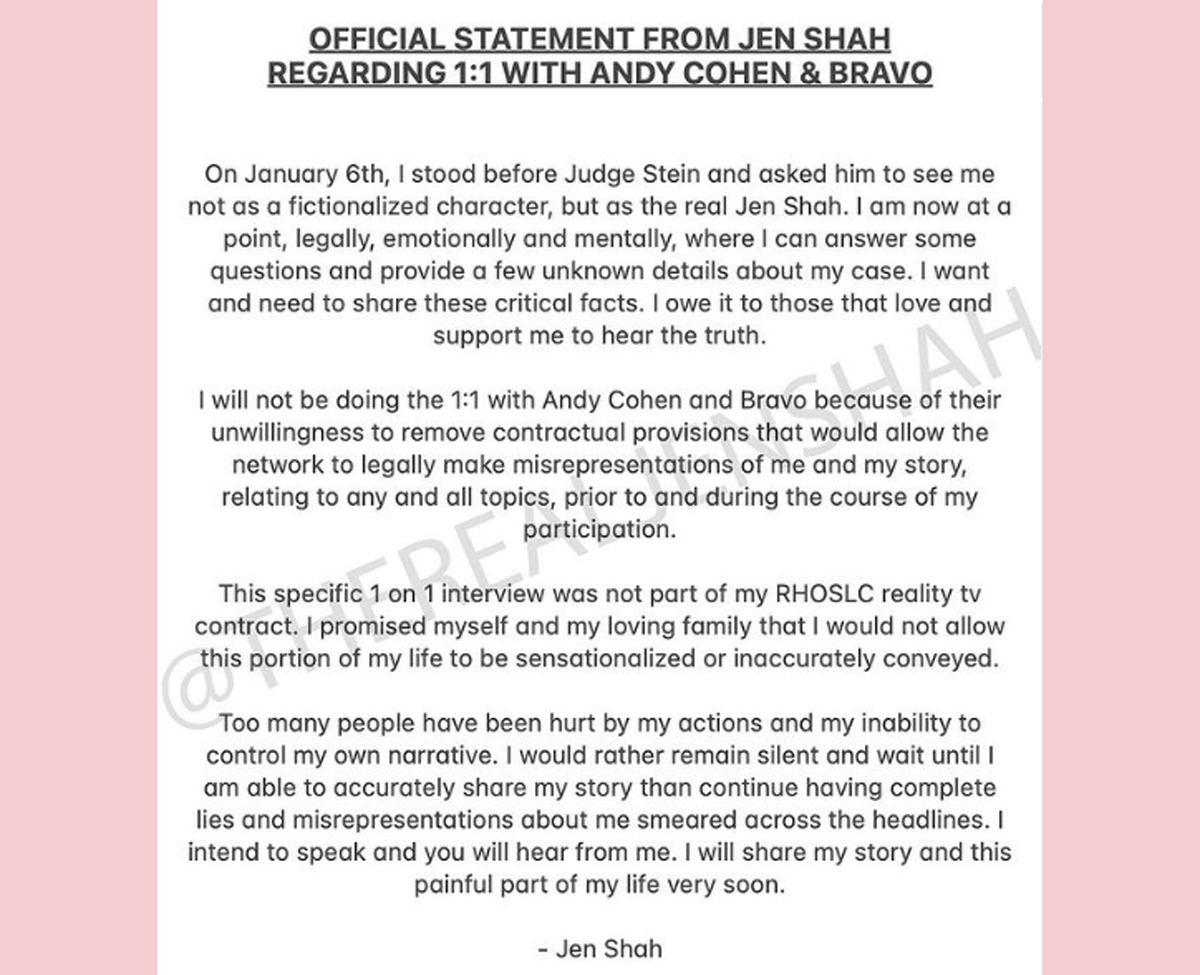 We guess everyone can expect her to explain her side of the story sometime soon — just not with Andy. We wonder if she's holding out for a payday… Keep an eye on if she ends up doing an exclusive with a British tabloid!
Andy has yet to address the announcement, but he must have some thoughts about the situation! Reactions, Perezcious readers? Are you disappointed Andy won't be having a televised conversation with Jen? Sound OFF in the comments below.
[Image via Bravo/YouTube]
[ad_2]

Source link